Jamesy from fellow fansite
www.madonna-tv.com
fills madonnalicious readers on the drama that happened when the lights went out at the last MDNA show in Cordoba on Saturday:
So I go all the way to Córdoba, Argentina for the FINAL MDNA SHOW hoping there might be some surprises but NOTHING NOTHING NOTHING could have prepared me for the drama that unfolded there tonight. UNBELIEVABLE to see a stadium concert in front of 50 thousand people plunged into darkness mid-stream. Then for a FULL HOUR **NOTHING** except emergency lighting - Madonna with a hand-held loudspeaker close to tears and no-one knowing what was gonna happen next. It was like the world had ended or something. Madonna looked SO UPSET.
Emergency lights came on and for another minute or so Madonna and co kept singing and dancing and then realised what had happened. No-one in the stadium could hear anything. All video screens went black.
Then she got given a handheld loudspeaker - which didn't work. She tried talking to the people in the Golden Triangle and then in the Gold Circle - no-one could hear anything - it was utter chaos and madness.
After an HOUR they started it again with Vogue. She apologised beautifully before Like A Virgin and then SMOKED A CIGARETTE during the song - she got someone in the audience to LIGHT IT FOR HER!
Aside from that - a few jokes played during the rest of the show (with it being the last one). Looked like they put something in her drink for Human Nature and the dancers wore funny wigs and glasses during Like A Prayer. Also no masks were worn for Best Friend / Heartbeat interlude.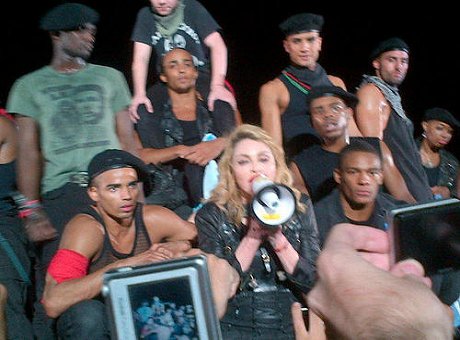 ---