For the second year in a row, the industry's leading style/costume designer, B. Akerlund, was responsible for the dynamic and outre half time show fashion viewers have come to expect from the biggest music performance of the year.
The wildly anticipated debut Super Bowl performance from the Queen of Pop was crafted with a Roman Empire thematic in which every element was infused with a gladiator vibe mixed with modern day elements from Rome. Madonna represented none other than the Queen herself and owned the stage with looks featuring Givenchy Haute Couture, boots by Miu Miu and earrings by Bulgari.
The fashion masterpiece took over three months to create in which Akerlund worked in lock step with the creative vision of Madonna who was involved in every detail down to each gladiator. Akerlund called upon the best and most forward thinking in the business to lend their creative genius, including Givenchy and Riccardo Tisci, who in addition to dozens of designers all over the world assisted in cultivating designs.
'This was by far the biggest challenge I have ever taken on in my career, and I could not be more honored to be a part of such an amazing and historical event,' says B. Akerlund. 'Nothing could ever come close to working with Madonna on this Super Bowl performance, her attention to detail and commitment to all of her projects is truly inspiring and life changing.'
The performance consisted of 500 outfits including head to toe looks for surprise guests LMFAO, Nicki Minaj, M.I.A. and Cee Lo Green as well as costumes for 100 drum line performers, 150 gladiators and 200 choir singers.
For additional information please visit
www.bakerlund.com
From PR Newswire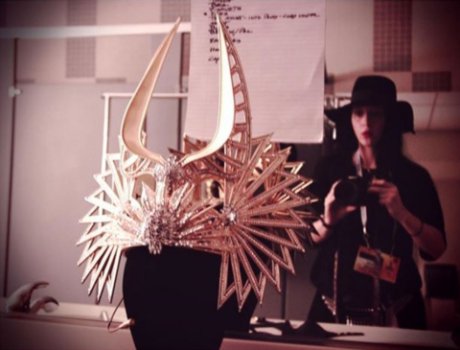 PRNewsFoto/B. Akerlund
---