JPG was in conversation with Susy Menkes (from Vogue) last night at the Barbican Centre in London. The entire conversation was filmed and should be available later via the Barbican website.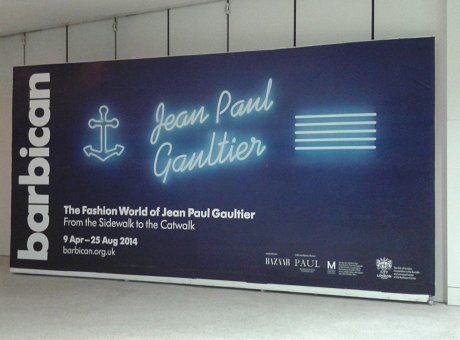 madonnalicious has always loved JPG from our early days watching him on UK TV on Eurotrash (and of course his fashion!), but after watching him in conversation for about 90 minutes last night, we think we love him even more. He spoke of his childhood (designing bras for his teddy bear), his grandfather who inspired JPG's love for Britishness (being that he had a 'little-bit of Brit in him), how he got into the world of couture and how a mean teacher showed him he could be loved by drawing.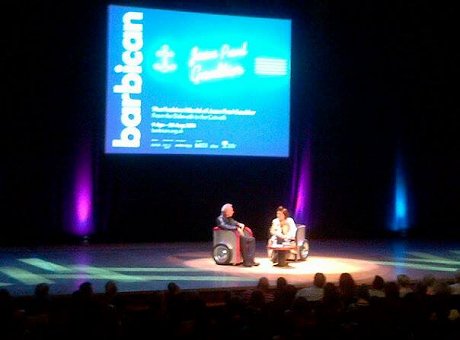 As a boy JPG was drawing a fashion design in class, his teacher was not pleased that he was not listening to the lesson, so tried to humiliate him. The teacher pinned the drawing to JPG's back and made his parade around all the other classes BUT this punishment didn't have the desired effect and JPG found people loving his picture and even asking him to draw for them. He realised he could find love through his art. Naturally Madonna was brought up in the conversation, and he explained how he had loved her from the beginning of her career.
He spoke of how he saw her on Top of the Pops (or 'Pop of the Tops' as he called it) performing Holiday. He described being inspired by her clothes, string vest, bra showing, cut-off leggings, bracelets and feeling that she had such an unusual style that she must be English. Later he found out she was American and was surprised! He was in NYC when he saw Madonna perform Like A Virgin in the wedding dress on the MTV awards and noted that the fans loved her, but the industry in the audience were not so sure and only politely applauded. Later after she sold millions of records, he noted how the industry became a lot more enthusiastic.
JPG was very excited when Madonna wore one of his dresses to the premiere of Desperately Seeking Susan. After this he got to meet her and work with her. He laughed when talking about the iconic cone bras for the Blond Ambition tour, saying that Madonna was behind-the-times as these had first been designed for a collection four or five years earlier. He also stated that she was a great business women but that they don't talk business.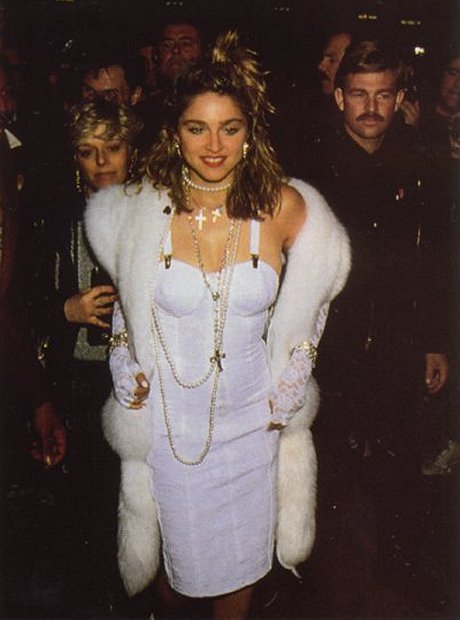 Later during the audience Q&A session someone asked what he thought about the new generation of female pop stars (Miley and Lady Gaga). JPG explained that he felt Lady Gaga's fashion is eccentricity more than style. Girls wanted to and could emulate Madonna's style but it is much harder to copy Lady Gaga as her fashion is more like a piece of art. And Miley, well he said 'I don't know what happens to these Disney girls. It must be Mickey!'