Madonna, with her personal trainer Nicole Winhoffer, opened the eighth location of Hard Candy Fitness in Toronto earlier this month, and Madge herself sweated it out to celebrate.
As for the moves, Winhoffer dishes on a normal workout with Madonna. 'We warm up always! I change her program every week. This is important to shock the body. Without change, you can't achieve results,' the superstar trainer reveals. 'We love to work on triceps, obliques, and of course, my favorite part - the butt! One of our favorite moves is the plank on chair butt press. We get into the plank position with one foot on a chair and the other leg bent with knee on the ground. Kick the bent leg back and return the knee to the ground. It's a full body move and a butt-lifter!'
One more must-have when working out with the pop legend - good music! 'The beat dictates my movement and rhythm for her program. One of my favorites is Offer Nissim's remix of [Madonna's] Frozen,' Winhoffer shares. 'It is such a sick beat and gets our adrenaline going.'
For more workout tips and tricks from Madonna's trainer, follow her on Twitter at @Nicolewinhoffer.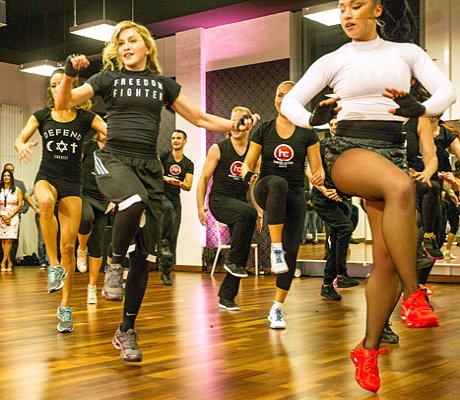 ---