Madonna, Jonah Hill and Kristen Bell are the latest celebs speaking out against Russia's anti-gay laws ahead of the upcoming 2014 Olympics in Sochi.
All three of the stars recently took to their social media accounts to share pictures of themselves wearing the Human Rights Campaign's $28 T-shirts that feature the phrase 'Love Conquers Hate' in Russian.
'Love conquers Hate!' Madonna captioned her shot on Instagram. '@HumanRightsCampaign. Russia and the Olympics need to get there act together for the Sochi 2014...... Discrimination will not be tolerated!'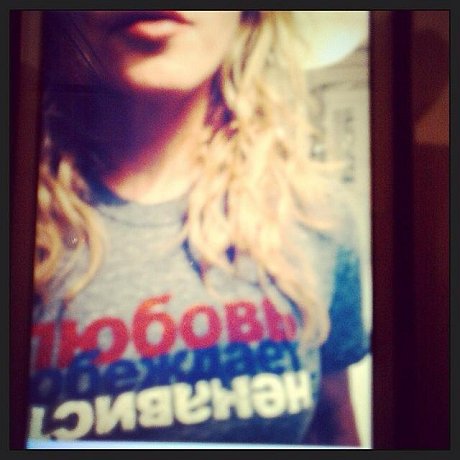 In Hill's Twitter pic, he flashes a giant smile while sporting the "Love Conquers Hate" campaign shirt. 'Help us show Russia & the world that #LoveConquersHate,' he wrote. 'Visit http://loveconquershate.org and @HRC to see how you can help.'
Meanwhile, Bell, an outspoken celeb supporter of LGBT rights, shared a close-up pic of herself wearing the tee, writing, 'For real: Tell Russia & the @Olympics that #LoveConquersHate. Join @HRC and share your pic. #Sochi14.'
HRC's campaign has recently been getting lots of star power help in urging the International Olympic Committee to condemn Russia's anti-gay laws. Other stars who've reportedly donned the 'Love Conquers Hate' shirt include Jamie Lee Curtis, Kevin Bacon, Wentworth Miller, Fergie, Kelly Osbourne, Tim Gunn, Andy Cohen, Andrew Rannells, Ricky Martin and Jason Collins.
From E! Online