madonnalicious reader Dec was at the Tate Modern screening last night of the #secretprojectrevolution film and shares his report:
I saw the Tate Modern London showing, the Soho one in Chinatown was packed, the 11pm one at the Tate was a little quieter but it was late. I thought about just watching youtube today but felt the call to war from our Queen. The screening started a little late, but only 15 minutes or so. A lot of people were wandering around thinking how and where exactly is this screening going to happen. Eventually a van and some production people arrived in a van with a massive projector and several speakers. After a test projection, the film started. It was entertaining, worth the trip and wait, she looked glorious most times, very angry tone throughout.
Not as fashion-y as I first thought, mini gang bang, she kills all the dancers. It is worth several more looks, no new music, no Rihanna. Brahim in there as an abusive police man, with Madonna being thrown in jail for artistic expression.
About 6 minutes into the screening, some people arrived in pyjamas and nightgowns and a big row occurred, I thought they were part of the show, maybe a live performance too, but no they were nasty moaning neighbours annoyed over the volume and disturbance, living next to a modern art gallery! They would not back down, kicking over speakers etc, I think they needed a dose of love and tolerance too, it was only 16mins long!
Passers by stopped, wondered what was happening, got very excited when they heard it was to do with Madonna but they got far too excited and chatty, but I had to remember love and tolerance so I just semi-glared at them with a silence look on me, they started to whisper...
Some production guys taking photos, interviewing, recording the crowd, asking what freedom meant to us. There was another man in a big bobble hat, asking questions, provoking thought. He looked very familiar, I convinced myself he was an old fit flame, thought he'd recognise me any mo, but no, I eventually recognised him as the superfit M bodyguard! Think Davis Collins funeral, she certainly keeps the staff busy on other projects!
Definitely thought provoking, and after 30 years it seems she is a little tired of I quote 'singing the same song, sit there, dance that same dance for us, and shake your ass while you are at it.' Can't remember everything, there was plenty of recording going on. Was glad I went, there was also beautiful choreography, was another group effort for Madonna and the dance team. Worthwhile, surprise secret trip outdoors. Very moving in some sections, sad in others, made me think a lot more I guess. Will definitely be watching it again and again.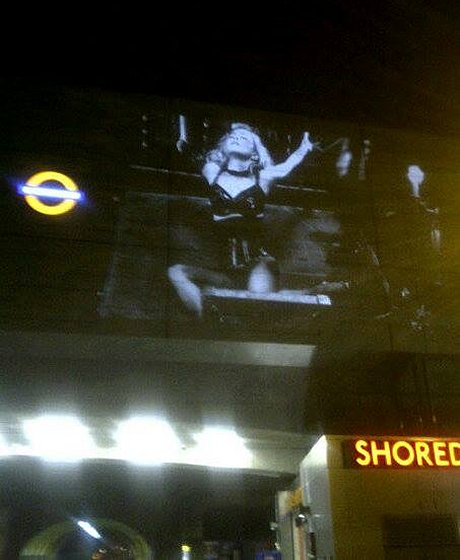 madonnalicious reader Daniel shares this picture from the Shoreditch projection screening of the #secretprojectrevolution last night.