Madonna will appear with journalist, author and talk show host Anderson Cooper on March 16 at the 24th Annual GLAAD Media Awards in New York, presented nationally by Ketel One Vodka and Wells Fargo, GLAAD announced today. The Associated Press broke the story.
Cooper and Madonna are longtime friends who have both used their careers to raise support for LGBT people around the globe.
'Madonna has been a passionate spokesperson and longtime supporter of gay rights. She has embraced LGBT people around the world on many occasions,' said GLAAD President Herndon Graddick. 'From speaking out against bullying to raising support for marriage equality, Madonna has always been one of our community's strongest allies. We are honored to have her stand with GLAAD and Anderson Cooper.'
GLAAD will honor Cooper with the Vito Russo Award at the New York event. The Vito Russo Award is presented to an openly lesbian, gay, bisexual or transgender media professional who has made a significant difference in promoting equality. Previous honorees include Ricky Martin, Rosie O'Donnell, and Elton John. The Award takes its name from legendary HIV/AIDS activist Vito Russo, who was also one of GLAAD's founders.
'By sharing his own experiences as a gay man, Anderson has reminded millions of Americans that LGBT people are part of their everyday lives and an integral part of our cultural fabric,' said GLAAD President Herndon Graddick. 'He continues to raise the bar and set a new standard for journalists everywhere, and I'm proud to call him a friend.'
To purchase tickets to the event visit http://www.glaad.org/mediaawards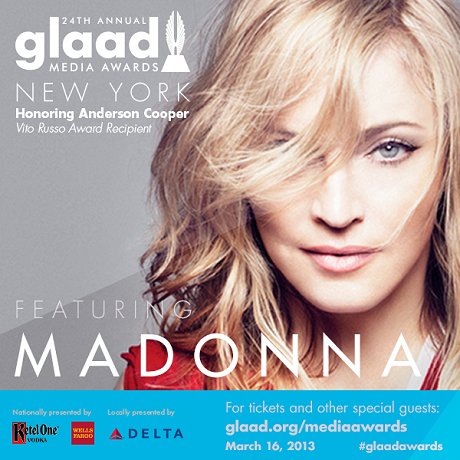 From www.glaad.org