Peter Magennis (The Beats Within) has written a six-page article about the making of Everybody, which is out now in UK magazine, Record Collector (February edition).
The story of Madonna's rise to fame has been told many, many times, but thanks to his exclusive interviews with virtually Everybody who was involved in making the single, the article reveals some cool new facts about Madonna - including the name of yet another unreleased demo from the early years. This feature is possibly one of the most in-depth articles about the making of Madonna's first single.
Included in the article are new and exclusive interviews with Mark Kamins (producer), Bob Blank (studio owner), Butch Jones (studio engineer), Fred Zarr (synths), Leslie Ming (drums), Ira Siegel (guitar), Rob Prinz (Madonna's first agent), Danny Tenaglia (legendary club DJ) and Charlene 'Chardonna' Martinez (the world's first Madonna wanna-be) - many of whom very kindly spoke exclusively and went on the record for the first time about working with Madonna in and out of the studio.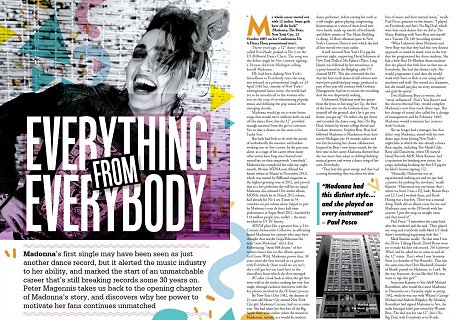 The magazine is in UK stores now and it will also become available in select international book stores (Barnes & Noble, etc) in the coming weeks. International fans can also buy the magazine direct from the Record Collector website at recordcollectormag.com/issue-detail/411