madonnalicious reader Carrie shares this great story of her experience at the Atlanta MDNA show on Saturday 17 November:
I won tickets to the Golden Triangle from the Icon contest and I decided to dress up as a slutty nun to attract Guy's (Oseary's) attention. It worked! After waiting about three hours for him to show up to take pics of the fans tattoos and costumes I HAD to go to the restroom. I'm walking to the bathroom and look up and all of the sudden, Guy Oseary is in front of me and says 'I've got to take your picture, follow me.' I was freaking out!
I followed him back to the GT where he took pics with fans, pics of the fans and signed his COAD Photo book. The guy is super nice! Right before we got our photo taken together I looked at him and said 'Are you ready to confess your sins tonight to me, My Son?' He got a huge chuckle out of it, laughed and said 'That was good!' Amazing moment number one! (See picture below)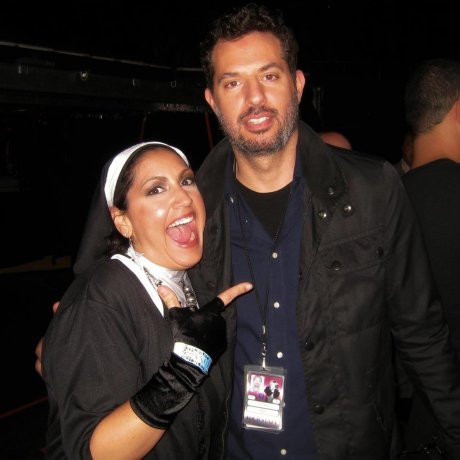 The next amazing moment was when Madonna peformed 'Like Virgin/ Love Spent' on the piano. People were throwing $1 bills at her and she stated she was worth more than $1. I quickly reached inside my purse and pulled out a $10 bill and waived at her screaming 'Madonna, I got a $10, I got a $10!' in my slutty nun costume! She looked at me, then down at the floor and said 'Put it right there, Sister' (as in it put the $10 bill on the floor!)
I was starstruck so stupidity took over. I yelled, 'No, come and take it!' and she didn't respond. So I yelled the first thing that came out of my mouth which was 'Confess, Madonna! Confess your sins.' She gave the piano guy a funny look as if I was crazy, and the crowd got a chuckle out of it! Here's the video - it happens at 7 minutes and 14 seconds!