It's an exciting time for Madonna's Material Girl fashion line, with a new campaign starring Georgia May Jagger and news that the brand is branching into Europe.
Currently the clothing line, which is designed by the songstress in collaboration with her teenage daughter Lourdes (Lola), is only available in the US via department store Macy's.
But a new deal with German shopping group Otto, which owns retailers including Freemans and Grattan, means the range will hit the UK, Germany, Russia and other countries across Europe from September via Otto's online fashion stores.
Material Girl has previously been fronted by celebrities including Taylor Momsen and Kelly Osbourne, with the latest frontwoman Georgia May Jagger, daughter of Rolling Stones singer Mick, appearing in the new rock-themed campaign.
The fall ads, which will hit August issues of magazines such as Seventeen and Teen Vogue, see Jagger posing backstage and onstage at a Madonna concert.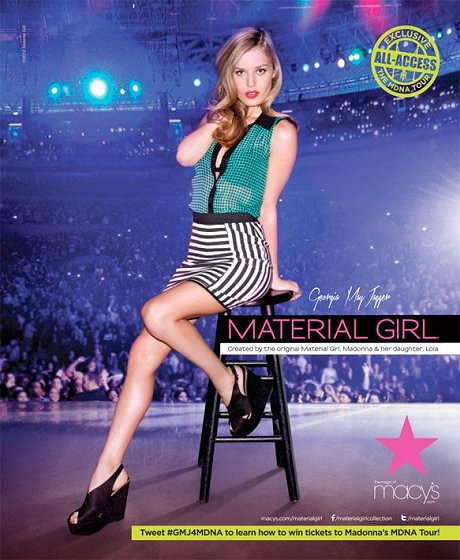 From AFP Via Yahoo! News