This press picture shows Madonna and one of her dancers performing 'Je t'aime moi non plus' as a finale to last nights show at the Olympia Music Hall in Paris.
She opened the show with an energetic performance of 'Turn Up The Radio' that got the whole venue jumping, followed by 'Open Your Heart'. We then had 'Vogue' (which is breathtaking in such a small venue), with 'Candy Shop' and 'Human Nature'. A great Beautiful Killer/Die Another Day mix (which MUST be added to the tour) was followed by 'Je t'aime moi non plus' as the finale.
After a great show, in an amazing small venue, the billed 'Special Club' mini show caused problems with some fans, who when the stage crew came on to dismantle the set, turned on Madonna shouting 'Salope', throwing empty bottles on stage and demanding a refund. Yes there were angry fans BUT it was not the entire audience. Some were happy to have seen Madonna at such an intimate venue.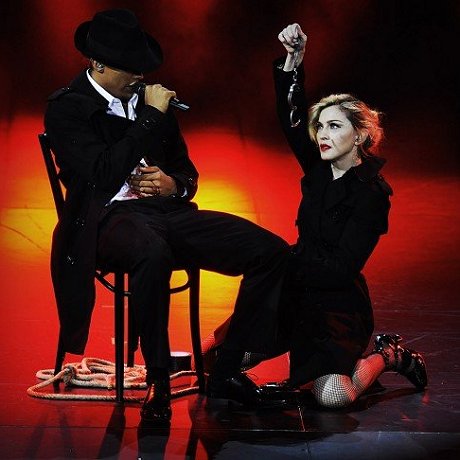 Picture from Press Association Via Yahoo! News