To honour the Queen of pop's ONLY London date 17th July in Hyde park on her record breaking 2012 world tour, Madonnalicious Presents... Madonna Celebrates MDNA Tour After Party held in one of Soho's most decadent venues, Punk.
The general admission tickets to this event are now sold out - but 'madonnalicious' is offering our readers the chance to win entry to the VIP 'madonnalicious' room!
The Competition:
The prize is a VIP Guest List and a table for two in the VIP 'madonnalicious' room with a bottle of champagne! Just answer the five questions below:
1 - Name Madonna's dance teacher?
2 - What year was her West End debut?
3 - Madonna's first single was ..., and in what venue was the first performance?
4 - Who did Madonna present an MTV Lifetime Achievement Award to in 1989?
5 - Who directed Madonna's 'Hung Up' video, and what other Madonna video did he direct?
Email your answers to comp@madonnacelebrate.co.uk (along with your name and contact number). The competition will end at 18:00 GMT on Sunday 15 July. No entries will be accepted after this time. Terms and conditions are available here.
The winner will be announced on madonnalicious.com on Monday 16 July 2012.
Tickets will also be available to the VIP 'madonnalicious' room through ticketweb. Cocktail waiter service and table reservations available (minimum spend required), for enquiries contact Tam at vip@madonnacelebrate.co.uk
MDNA TOUR AFTER PARTY VIP TICKETS £90 (no booking fee)
ONLY 20 WILL GO ON SALE Monday 02 July 2012 9:00am from ticketweb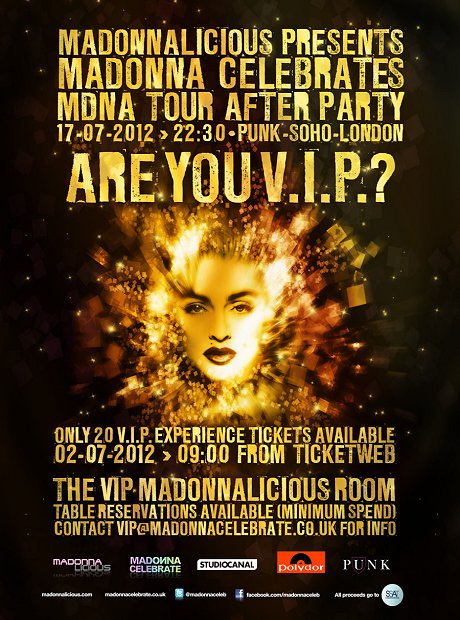 Facebook: www.facebook.com/madonnaceleb
Twitter: www.twitter.com/madonnaceleb
Website: www.madonnacelebrate.co.uk