An 'absolutely stunning' photograph of Madonna posing naked on a bed while smoking a cigarette has emerged for sale.
The black and white shot, taken in 1990, shows the singer reclining on a bed with her breasts exposed and just a white sheet covering her bottom half.
Madonna, who has bleached blonde hair and dark eye make-up in the picture, is seen holding a cigarette to her pouting lips, adopting a sexy, sultry pose.
This photograph, taken by Steven Meisel, is signed and annotated 'ed no.1' and is expected to fetch over £5,000.
It measures 21.5 inches by 19 inches and was bought by the vendor from a New York gallery.
The photograph, which was taken by the same photographer who did the work for Madonna's 1992 book Sex, is to be sold by Bonhams in New York on May 8.
Judith Eurich from the sale room said: 'This is an absolutely stunning image and it is just a beautiful tone of grey. It is not just black and white it is grey and silvery.
'Madonna was posing for a number of photographers at the time this was taken in the 1990s when she was in her early 30s.
'She was going through a phase of having bleach blonde hair and heavy dark eye make-up that gave her a dramatic look - and of course she has a gorgeous body.
'She is a very healthy person and I'd imagine the cigarette is just a prop to make her look sexy and sultry.
'There are Madonna superfans and devotees across the world who would love to own it.'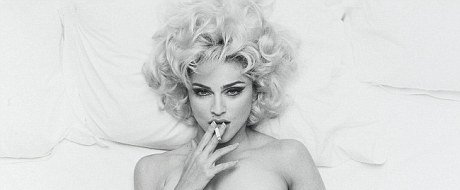 From: www.mailonline.co.uk