Madonna chatted with Jimmy Fallon Saturday evening, but it wasn't on the set of NBC's 'Late Night.' The pop star was interviewed during a live stream on her Facebook page to take questions from fans and to promote her 12th studio album, 'MDNA.' The album will be released Monday.
In a strategy that has been praised for avoiding overexposure, Madonna has been noticeably absent from the talk show and magazine circuit, and has instead been promoting new songs and behind-the-scenes videos online. According to Fallon, the Facebook stream would be her only promotional interview ahead of the album's release.
'What if it doesn't work out?' Fallon joked of the interview. 'You're Madonna. But did you think about my career?'
After getting some dance instruction, Fallon turned to Madonna's upcoming tour, asking if fans would see elements from her bombastic Super Bowl halftime show.
'I don't want to repeat myself. I did that already,' Madonna said.
Madonna wouldn't reveal which songs would be performed during the MDNA tour, but did say she likes her shows to be divided into acts. The first act of the upcoming tour will be titled 'Transgression.'
'I like to have a theme for my show and create a dramatic arc,' Madonna said. 'Then I try to make the songs fit within that arc.'
On why she chose M.I.A. and Nicki Minaj as collaborators for the album, Madonna said: 'Because they're badass bitches. They're both smart, clever. They have strength. They don't just play on their sexuality.'
The 53-year-old pop icon also told Fallon rehearsals for the tour have been 'violent.'
'I'm covered in bruises right now,' Madonna said
From Billboard.com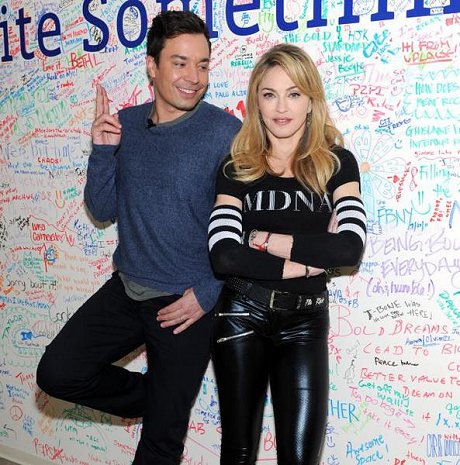 ---