Celebrity fragrances are always a hot topic in the beauty industry. Over the past five years the market has been flooded with a vast quantity of olfactory offerings from the world's biggest models, musicians and film stars. The result? Gentle murmurings by certain cynical types that there had been a marked turn from quality to quantity with of course lots of money making thrown in for good measure. Whether or not you agree, it was certainly true that these scents were being bought largely by fans of the star in question with much lesser general appeal.
Now however, we think things are set to change in the celebrity scent market and Mark Tranter, Fragrance and beauty buyer at Selfridges agrees. 'Celebrity fragrance is most definitely set for a resurgence - the market seems to have had a thorough clean up and the calibre of the fragrances has been raised significantly', he explains. 'The new generation of celebrity fragrance seem to have very specific launch strategies, with strong marketing campaigns and a focus on the scent itself rather than just the celebrity.' All very interesting...Right?
This morning's launch of Madonna's much awaited 'Truth or Dare' fragrance suggested that this change is certainly a real one. Givauden perfumer Stephen Nilsen, who worked with Madonna on the creation of the scent, told us that he was truly amazed by the superstar's talent and fascination when it came to fragrance. 'She has a remarkable ability to pick out perfume notes, even subtle ones like moss, she understood explicitly how they worked together and knew exactly what she wanted for her final product.'
Indeed, throughout last summer while her royal Madge-ness was residing in Manhatten, Stephen found himself regularly hopping in taxis and hand delivering working samples of the scent (it took 200 attempts to reach the final version), to her New York compound (yes we really did say compound), by hand. Plus the final bottle design was directly inspired by a tiny silver case that Madonna used to carry her fragrance tester vials while they were working on its production. Genius!
Most importantly perhaps, the finished scent is really quite delightful - achieving a unique and modern blend by juxtaposing innocent girly florals and heady, sexy vanilla and caramelized amber notes.
In the UK, Truth of Dare, from £25 will be available exclusively at Selfridges from 18th April and nationwide from May 2012.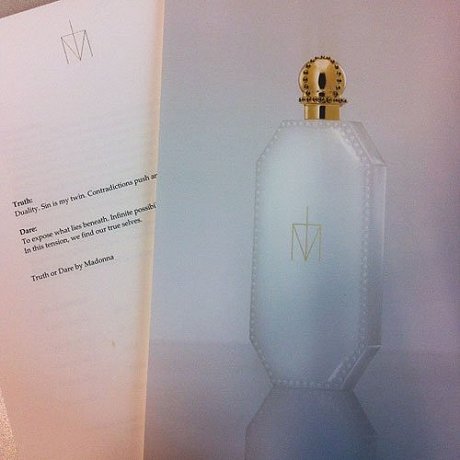 From Grazia Daily