As many of you astute pop-culture watchers already know, Piers Morgan ain't wild about Girl Gone Wild Madonna.
The CNN host has been engaged in a glorious public spat with the pop star, mercilessly ripping her for being—let's have the list, shall we? - a 'con artist,' 'barbaric,' 'grotesque' and 'gruesome.' (Somebody forgot to take his happy pills today.)
He's also saying that she's not welcome on his show.
Whoa, there: Not so fast, says Madonna's camp, and they've dug up evidence to prove him wrong.
Shall we get to the bottom of things?
On Monday, Morgan tweeted,
'Welcome to Twitter @MadonnaMDNAday - you're still banned from my show. Love Piers x,'
referencing Madge's one-day-only Twitter promo blitz for her new album, MDNA.
But after getting wind of the diss, the pop star's manager, Guy Oseary, tweeted Morgan back last night, saying,
'Really??'
and attaching a copy of an invitation the singer received to appear on Morgan's U.K. show.
The letter, which was sent last October, reads:
'Piers Morgan is delighted to invite Madonna to be a special guest for his LA recording of his UK chat show - where she would be welcome to promote her new film and forthcoming album release (and perform two numbers).'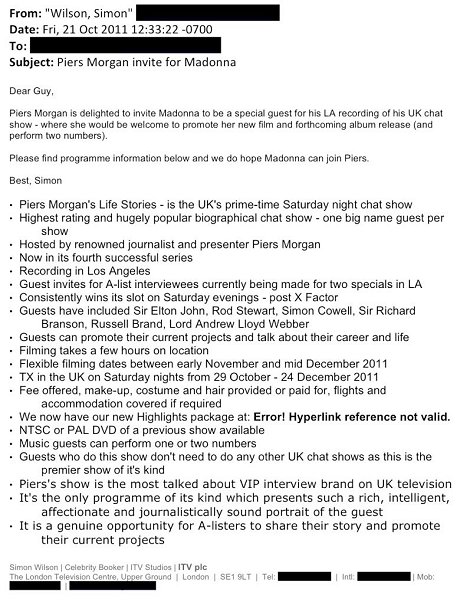 Oops! Morgan, however, wasn't about to back down.
Shortly after, he tweeted, 'Madonna's only been banned from my #CNN show @guyoseary - not my UK show, which sent that invite. But I'm now banning her from that too.' And then he extended the boycott to her manager as well: 'Oh, and I'm afraid you're banned from all my shows too @guyoseary - guilt by association, sorry.'
For someone who was only on Twitter for a day, Madge's feed has seen lotsa action.
She also got into a Twitter tiff with DJ Deadmau5, who accused her of making a drug reference on stage in Miami, to which she posted a hilarious twitpic (see picture below) and response.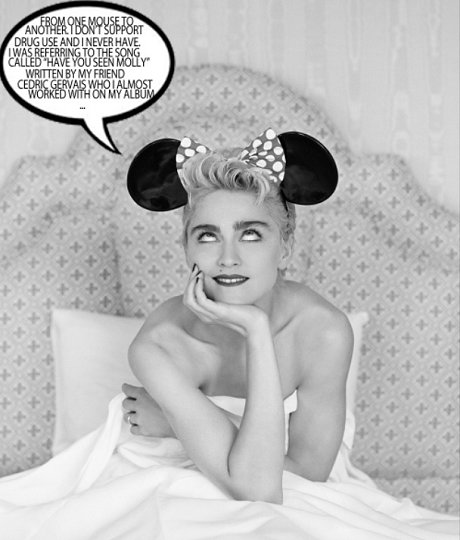 Jeez, all that action in just one day. Can we please have the gal back on Twitter for good?
From uk.eonline.com