Thanks to the hundreds of entries to the Super Bowl Memories
competition
that run last week. We selected our three favourite entries and the winners are:
Ruben - your entry made us laugh out loud and spill our drink!
The entire performance is my favorite moment of ANY halftime show ever! The entrance has to be my favorite though. That is how a queen makes an entrance. Not in an egg.
Ryan - summed up the wonderful Like A Prayer performance:
Every moment of the Super Bowl halftime show was special from her entrance up until her exit. However, if I have to pick just one, it would have to be when the first chorus of 'Like a Prayer' hit. Up until that point, Madonna was all over the stage, dancing, interacting with dancers, etc. I think it was at this moment that the real power of the performance was able to sink in, for both Madonna and the fans. She elevated on the platform as the entire stadium lit up like a sky full of starts. It seemed to be the first time Madonna was able to see everything.
For that moment, everyone came together as one, and the emotion on Madonna's face matched the emotion of her fans all around the world. It was an incredible moment.
Sean - for telling a story that reminds us Madonna can make us dance around in our underwear - and we don't care!
Superbowl Sunday was also the day that Ireland kicked off their Six Nations Rugby campaign and being Irish I was out all day enjoying the day with a few Guinness. I got home in enough time to be ready to watch the event. After a few beers I was going to watch it in bed but I wanted the volume nice and high so I went downstairs in my rugby shirt and underpants and put it on the big screen with the surround sound.
As soon as the music started I was on my feet and dancing - I obviously didn't notice that my brother had come in as the volume was nice and high and caught me dancing my heart out to Madonna and LMFAO. I just broke my heart laughing and kept on dancing!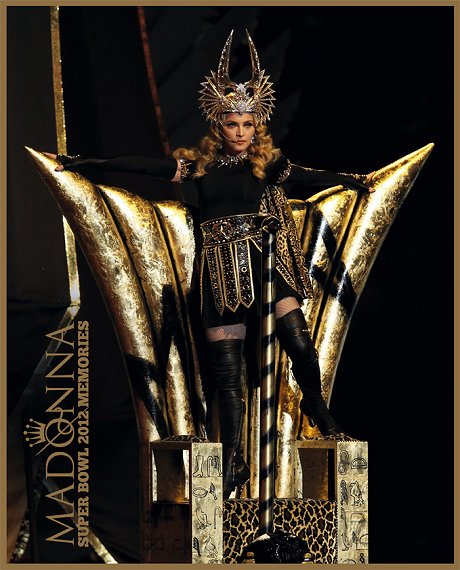 Sunset Entertainment Presents 'MADONNA SUPER BOWL 2012 MEMORIES' - a very luxurious magazine with over 60 photos.
Details On The Magazine:
Limited Edition to 1000 copies
Size 24 X 30 CM
68 Pages printed on glossy and varnished paper
Semi-hard cover printed on glossy and varnished paper
Adhesive binding - individually packed
Price: 25€
Release Date: : Thursday 08 March (Orders will be shipped that day)
Available For Pre-Order Now: sunset-entertainment.net/shop