Time was, you had to really know a celebrity to photograph her with her guard down, licking her shoulder, a la Madonna Louise Ciccone (she still had all three names) in 1980.
Before the days of cell phone cameras and Twit-pics, Mick Rock was there - backstage, in hotel rooms, off-hours, 'getting into all kinds of mischief' - with rock 'n' roll's most iconic figures. Queen, David Bowie, Blondie, the Sex Pistols, Joan Jett: He snapped them all, and then some.
More than a dozen of his portraits, new and old, have been collected into an exhibition that will travel to W Hotels across the country throughout 2012. ABCNews.com asked Rock for the stories behind the photos at show's opening reception at the W New York Downtown.
Madonna, 1980
'She hadn't even made a record. Somebody brought her up to my studio, and he would bring young people up, some not for any purpose other than to say hi. She had aspirations, and I just took a few pictures.'
'[The pose] wasn't my idea. There was no 'Baby' then. She was very brazen. She's had an amazing career since that day, and I take my hat off to her, because she broke a lot of ground in a business sense, for women. She took control of her destiny and she set the trail for people like Lady Gaga.'
To read the rest of the article and view more pictures visit abcnews.go.com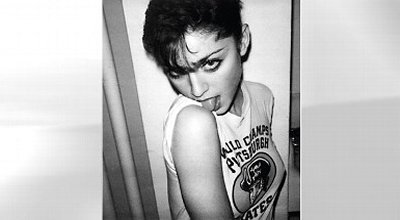 Picture courtesy of Mick Rock