Who could forget Madonna's legendary 1984 VMA performance of 'Like A Virgin'? You remember: the one where she dressed up like a randy bride in a Boy Toy belt and a wedding dress that felt more like the underpinnings of a regular wedding dress and then proceeded to lay down and consummate her marital relationship with the stage.
What does Madonna's VMA performance have to with a cat? Not much, but everything has to do with cats when you blatantly get a cat involved. Which is why we - the same people who brought you dogs dressed like Cher and Lady Gaga in her VMA meat dress - called upon a gifted cat name Mona to dress up like a cat version of Madonna and recreate Her Madgesty's iconic 'Like A Virgin' VMA performance - cat-sized wedding cake and all - in today's VMA animal reenactment.
To read the full story and view the clip visit buzzworthy.mtv.com (for the US) and www.mtv.co.uk/events/vmas (for the UK).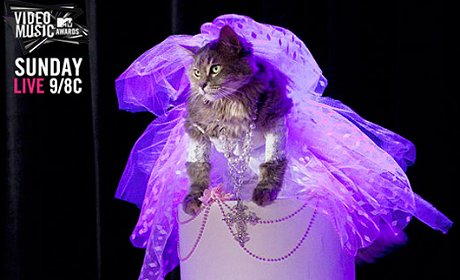 Thanks to Francis