Teens everywhere have been amping up their wardrobes with eclectic pieces from Madonna and daughter Lourdes's juniors clothing line, Material Girl. And now, the mother-daughter team is building up the brand to include beauty products, intimates and sleepwear, plus outerwear, party dresses and an expanded denim line.
First up are intimates and sleepwear, which debut in stores this month and will include everything from solid and polka-dot push-up bras to bustiers, sweatpants and even girly boxers.
Next will come beauty products, including nail polish, lip glosses, body sprays and lotions, all hitting stores on Aug. 15, with eye palettes launching on Sept. 15.
After girls everywhere start smacking their lips with the new glosses, they can stock up on fall fashions like studded and acid-wash skinny jeans, outerwear like cape coats and bomber jackets, and a collection of sequin-covered, feather-accessorized dresses, also coming to stores in fall.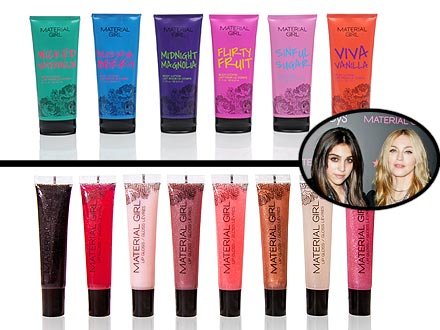 From People.com / Material Girl Beauty