Oprah Winfrey wiped away tears as celebrity after celebrity surprised her during a farewell double-episode taping of 'The Oprah Winfrey Show' that will precede her finale.
'Thank you is not enough, but thank you,' Winfrey told the crowd of 13,000 gathered at Chicago's United Center on Tuesday night for 'Surprise Oprah! A Farewell Spectacular.' 'For your love and your support, thank you.'
The crowd gave Winfrey a standing ovation when she first walked on the stage. Then the stars came out, with Winfrey's producers making good on their promise of the biggest celebrities of movies, music and television.
Aretha Franklin sang 'Amazing Grace.' Tom Hanks acted as host for the evening. Michael Jordan, who led the Chicago Bulls to six NBA championships during the 1990s, told Winfrey she inspires him. Tom Cruise, famous for his couch jumping on Winfrey's show, was there. Jerry Seinfeld wore a tuxedo to give a comedy routine. And Madonna said she is among the millions of people who are inspired by Winfrey.
'She fights for things she believes in, even if it makes her unpopular,' Madonna said.
Winfrey announced in November 2009 that she would end her popular talk show after 25 years. Tuesday's taping will air May 23 and 24, before Winfrey's final show on May 25.
To read more visit www.huffingtonpost.com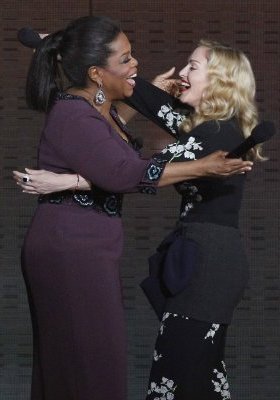 Thanks to Sharon