Madonna is seeking a new model for her clothing line.
The 52-year-old singer launched her Material Girl range - which is aimed at teenage girls - last year with 'Gossip Girl' star Taylor Momsen promoting the brand but, according to a posting on the company's official website, Madonna is looking for a new ambassador.
Next to a picture of 17-year-old Taylor an advert proclaims. 'Desperately seeking Material Girl'.
It goes on to add, 'Living in a material world and we need material girls. Looking for the hottest girl on the scene, she is never afraid'.
The posting encourages visitors to the site to vote for who they think should become the next face of the collection.
Madonna worked on the Material Girl line with her 14-year-old daughter Lourdes and admitted the youngster brought much of her own personal style to the collection.
She revealed: 'I think this line is absolutely an extension of her taste. We like to combine a plaid or a flannel with a lace or leather with lace or rhinestones. So we mix and match textures and fabrics and elements that are both masculine and feminine.'
Visit www.materialgirlcollection.com to vote for your choice of Material Girl.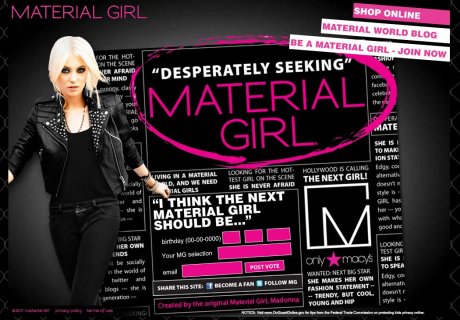 From contactmusic.com