2entertain has announced the release of The Michael Parkinson Collection. The DVD will feature Parkinson's personal choice of the best moments from over 2000 interviews from the entire back catalogue of Parkinson.
With a career spanning over 40 years, Michael Parkinson is the most successful and recognised interviewer in the country and one of the nation's favourite television personalities. For the first time ever BBC DVD offers The Michael Parkinson Collection DVD available from 22nd November.
The DVD allows viewers to watch Parkie's career, all hand-picked and introduced by the man himself featuring classic in-depth interviews with some of the most famous people in the world.
The DVD features conversations with John Wayne, James Stewart and Jimmy Cagney and modern greats such as Tom Hanks, Samuel L Jackson and Tom Cruise. It also features some of Parkie's most well known moments such as; Lauren Bacall, the housewife megastar Dame Edna Everage, Jane Fonda,
Madonna
, when Parkie met Meg and wrestled Emu.
This two disc collection also includes interviews with celebrated sportsmen from Muhammad Ali to David Beckham, the legendary John Lennon, Sir David Attenborough and Richard Burton and the great raconteurs such as Kenneth Williams and Peter Ustinov, as well as the best comedians of their generation from Tommy Cooper and Robin Williams to Les Dawson and Peter Kay.
Extras include a specially made documentary charting the history of the show and lifting the lid on the behind the scenes secrets plus a collection of moments the host would rather forget.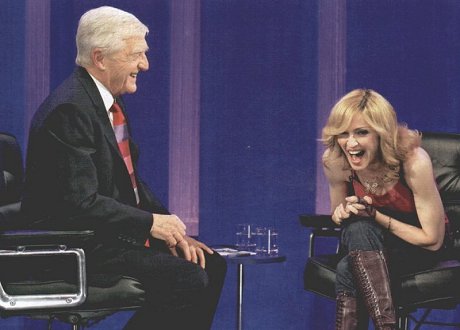 From PR News Wire / Centre Daily - thanks to Roby