In this week's edition of the redesigned
TV GUIDE
(19-25 April issue), the cast of
Glee
talks Madonna and gets into the groove for their episode airing April 20 on FOX: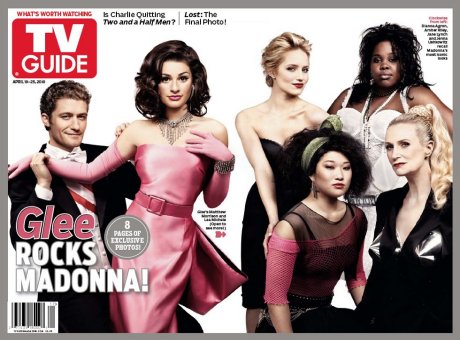 On her early memories of Madonna, Lea Michele remembers attending Madonna's Drowned World Tour three times and styling her hair like Miss Ciccone when attending Bat Mitzvahs.
Matthew Morrison recalls: 'I wasn't a big fan of Madonna; never got into it. As a heterosexual guy, she didn't have much impact on my life.'
Chris Colfer: 'I was not allowed to listen to Madonna when I was younger. My mother and grandmother had all the CDs but didn't want me to hear about sex.'
Mark Salling grew up in a strict Christian home in the South: 'Madonna was considered the she-devil.'
Jane Lynch recalls: '....sitting at a bar all drunk on Long Island ice teas watching her 'Material Girl' video and thinking, 'How Ballsy.''
The magazine hits US newstands on Thursday 15 April.
Fans can also watch this behind-the-scenes video of the TV GUIDE photoshoot:
Photo Credits: Art Streiber for TV GUIDE MAGAZINE / www.tvguidemagazine.com
Thanks to TV GUIDE