Warner Brothers Music has launched a four-week campaign for Madonna's greatest hits album with the first takeover of the MSN Artist of the Month slot.
The campaign for the Celebration album and DVD will feature up to 45 video clips hosted across the portal, as Madonna takes over the prime editorial slot on MSN Music.
The release also features across MSN Messenger and Video.
Surrounding activity, planned by media agency ZenithOptimedia, includes display activity across sites such as Heat, MySpace and Popjustice. The campaign will also be tied into existing Facebook and Twitter profiles.
Katherine Parrott, marketing manager at Warner Brothers Music, said new video was being distributed throughout the campaign to maintain high levels of interest from fans.
'By taking over the Artist of the Month slot it acts as a long-term offering to remind people it's out,' she said. 'We wanted to try something a bit different and used the success we had online in the past with Lily Allen campaigns.'
To view the Artist of the Month page visit events.uk.msn.com/music/madonna-celebration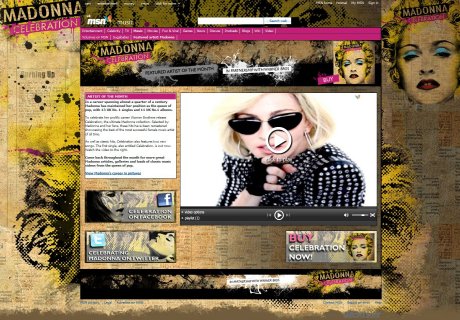 From newmediaage.co.uk