Lady GaGa met up with Madonna on Monday night at a Marc Jacobs fashion show in New York.
The Pokerface star posed with her idol and the fashion designer whilst attending the event the night after the VMAs.
Compared to the previous night's nine different outfits GaGa's get up was understated - she wore a studded black mask, gloves, dress and a white blazer to the New York fashion week event.
Madonna was attending with her boyfriend model Jesus Luz.
At the VMAs the Queen of Pop was asked if she minded Lady G being compared to her. According to reports her reply was: 'No, I'm very flattered.'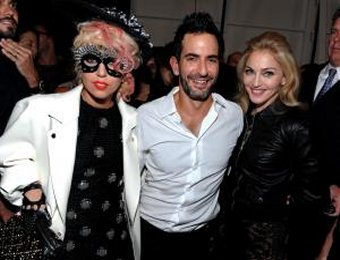 From MTV.com