In the '80s she had a hit singing 'Material Girl,' and now the singer's making good on the nickname with a beauty routine that takes luxe to fierce new levels.
For her Sticky & Sweet 2009 tour, Madonna's long-time makeup artist, Shu Uemura Artistic Director Gina Brooke, is giving Madonna a true high-wattage sparkle by dusting her eyelids with a mixture of white shadow and flawless, crushed rose-cut diamonds - and accenting the look with another two carats of small diamond pieces affixed to her brow bones, all inspired by the singer's hit 'Ray of Light.'
And while diamond dust might seem over-the-top - even for Madonna - the effect is worth it, explains Gina. 'The resulting brightness and glow from Madonna's eyes captivate the audience and reinforces the fact that there are always new possibilities with makeup - and no rules,' she says.
Even if you don't have a few spare carats of diamonds lying around, you can still recreate Madonna's tour look using slightly less precious commodities, Gina says. Using Kolinsky brush in #15, apply Pressed Eye Shadow ME White 906, blending softly from lash line to brow bone. Using a liner brush, apply Painting Liner in M Black from corner to corner of lash line, sweeping up at the edge. Next, apply a thick false lashes, like Farfallina Lash. Balance the look with a neutral lip using Rouge Unlimited Lipstick in 945 Beige.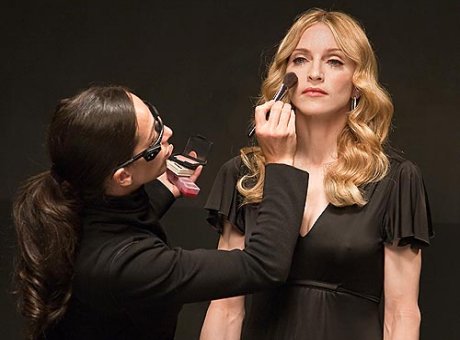 From People.com / Shu Uemura