Various news reports are appearing in the Israeli press about the
Sticky & Sweet Tour
coming to Israel. They suggest that Madonna has said yes to the show but are waiting for a commercial sponsor to commit to the show.
However most reports are naming an October date for the show - which is odd as the last date for the tour so dar in the end of August.
Here is a report and scan from www.ynetnews.com/articles:
After long and agonizing negotiations, pop queen Madonna has finally confirmed she will be stopping in Israel this October as part of her successful Sticky and Sweet Tour.
The singer will put on a one-night performance, but her trip to Israel will last a few days during which she will visit various sites.
According to speculations, Madonna will be landing in Tel Aviv a week before her show and stay in Israel during Yom Kippur.
The 51-year-old artist's visit to Israel was not part of the original plan. The Sticky and Sweet Tour was launched last year and saw jam-packed halls around the world.
After the tour Madonna announced that she planned to start working on a new record, but rising demand from her fans around the world led the singer to extend her tour to European locations this summer.
It should be noted that Madonna has wanted to perform in Israel a number of times in recent years, but due to funding problems, was unable to do so.
Even now, there is a chance that the show may not go through, since Israeli promoter Shuki Weiss and German producer Marek Lieberberg are still looking for commercial sponsors to fund the costly performance.
The two have been holding intensive talks with telecommunications provider Orange, but an agreement is yet to be signed.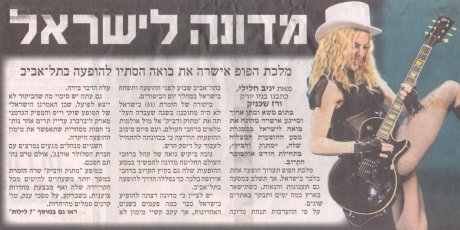 Thanks to Michal, Nadav and Ruti