UK TV interviewer Michael Parkinson is having his autobiography serialised in UK newspaper the
Daily Mail
- Madonna is only briefly mentioned today in the third of these installments - but that didn't stop a picture of Madonna and Michael being featured on the front page of the newspaper today.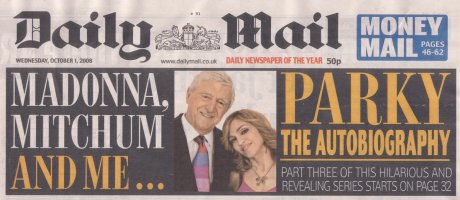 We always refused to accept any preconditions on an interview. That is why I never interviewed Barbra Streisand and why it took many years before I finally interviewed Madonna.
I had moved to ITV before we managed to persuade her to do a one-woman show without any preconditions. She turned out to be so bright, frank and funny it made you wonder what the previous debate had been about.
To read the rest of the article visit www.dailymail.co.uk/tvshowbiz