Last year madonnalicious brought you news of the Red Collection, a UK art company and its debut collection of art prints based on Madonna's Confessions Tour. Ged Janczuk, photographer, designer and founder of the company says 'Last years collection was very much a labour of love which started a year earlier, each design went through about a dozen proof stages before the final version.'
When asked about the creative process behind the designs he says '70s music, especially Disco, is one of my favourite genres, so I was overwhelmed with the Confessions album and tour. The whole time that I was designing I was listening to a lot of 1970s LPs. I suppose a lot of the catchier dance-floor sounds influenced my mood. That collection was very colourful and very busy with lots of swishes and swirls. One piece in the collection Let Me Be Your Guide was the figurehead of the collection, with the swooshing lines I incorporated a lot of stars, planets and nebulae.'
'It was my homage to Madonna, 70's disco and the beauty of the universe. I envisioned Madonna traveling through the universe creating a wondrous world of light and sound around her, the line from Future Lovers seemed so apt and the rest of the collection grew from there.'
This week saw the launch of the 2009 Madonna Collection – utilizing exclusive photos by the Red Collection from the Sticky & Sweet Tour. The new collection is quite different from the last - being sharper, more dynamic – and very iconic!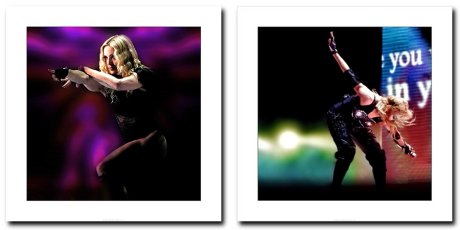 The 4 designs are 12 x 12 inches (approx 30cm) which makes framing easy. They are limited to a mere 100 copies each, printed using the lithographic process on heavy archive quality paper with a high gloss finish, discreetly hand numbered and embossed with a 3D seal of authenticity.
madonnalicious visitors are being given the chance to pre-order these artworks now with a 15% discount. Prints can be ordered separately or as a complete collection. The 4 new prints are titled 'Savage', 'Zephyr', 'Attitude' and 'Sugar'. To claim your 15% discount enter discount code: madonnalicious during checkout at www.theredcollection.com