Vanity Fair
will auction off the one-of-a-kind globe featured with Madonna on the cover of the May Green Issue and signed by her, along with two tickets to a very special performance by Madonna in New York City at the end of April. All proceeds will benefit Raising Malawi, a charity committed to revitalizing the lives of orphaned and vulnerable children in Malawi, Africa.
The May issue marks Madonna's 10th appearance on the cover of
Vanity Fair
. Shot by photographer Steven Meisel, she is pictured leaning against the globe, which is four feet in diameter and weighs approximately eighty pounds. The inspiration for the image came to editor Graydon Carter from a midcentury fashion-magazine cover, and Vanity Fair's fashion and style director, Michael Roberts, sketched several images, channeling not just the fashion cover but also the work of Czech photographer Frantisek Drtikol from the 20s.
The orb was suspended from the ceiling during the photo shoot at Smashbox Studios in Los Angeles on February 21, 2008. Following the shoot, Madonna signed the globe and drew a heart over Africa.
Bidders may go to
www.vanityfair.com
to be connected to eBay where they may bid on the globe and the tickets. Bidding begins today and will end on April 18.
The event is being managed on eBay Giving Works, eBay's dedicated program for charity listings, by Auction Cause, a premier online auction management agency specializing in high-profile design, strategy, and cause marketing for corporations and nonprofits worldwide. For more information, please visit
www.auctioncause.com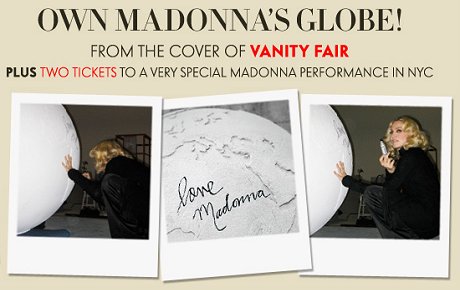 Thanks to Elizabeth at Vanity Fair