MSNBC.com contributor Tony Sclafani has written a great article to counteract the claims that Madonna isn't 'rock' enough to be inducted into the
Rock and Roll Hall of Fame
this coming Monday 10 March:
Madonna started out playing drums for the indie rock band Breakfast Club. If you think rock hasn't influenced her sound, you're mistaken.
One of the first-ever mentions of Madonna in a national publication came in March 1984, when the new wave magazine Trouser Press ran a feature on DJ Jellybean Benitez, who was then remixing tracks for the singer. The article notes Benitez was 'engaged to remix three tracks by disco/pop/rock crossover hopeful Madonna.'
Madonna may not be a 'hopeful' anymore, but with her March 10 induction into the Rock and Roll Hall of Fame inching closer, people are again arguing about what kind of music she makes. In a recent msnbc.com commentary, Michael Ventre claimed Madonna's music wasn't rock and her induction would 'undermine the credibility' of the Rock Hall. But that's not a feeling shared by all rock fans. Madonna might not be your standard rock performer, but she's rock-oriented enough to justify getting inducted (we'll get to the topic of the Hall's 'credibility' later).
To read the rest of the article visit www.msnbc.msn.com - and below is a picture of Madonna on drums for The Breakfast Club.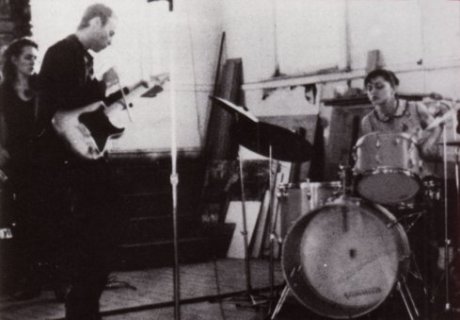 Thanks to Daniel