Towards the end of last year we brought you news of new designer art company the Red Collection; who specialize in limited edition contemporary art. Madonna was the subject of one of their very first collections.
The Madonna collection proved to be a big success with fans and art collectors alike and helped the new company to establish its foundations. Up and Coming Photographer, Designer & Director Ged Janczuk is set to introduce more varied collections of new and exciting works in the coming year as well as tentatively securing commissions to work with some big names!
As a first step to the New Year, the Red Collection has started rolling out its new Premier collections. Highly collectible and limited edition mounted photographic work in addition to the already popular large format lithograph prints. One of the first of these Premier Collections will be the 'Performance Collection' featuring some of the best talent in music. Madonna is no exception to this new collection.
A brand new limited edition 'Stars & Stripes' lithograph design has just been added to the Madonna collection as well as premier mounted photographic works being added to the 'Performance Collection'. And don't worry if you think you might not be able to stretch to these premium prints as there are varied products to suit all tastes and budgets.
madonnalicious visitors get an exclusive 25% discount off EVERYTHING in the galleries. Simply enter discount code: madonnalicious during the checkout process (lowercase no spaces.)
To browse and shop the Red Collection visit www.theredcollection.com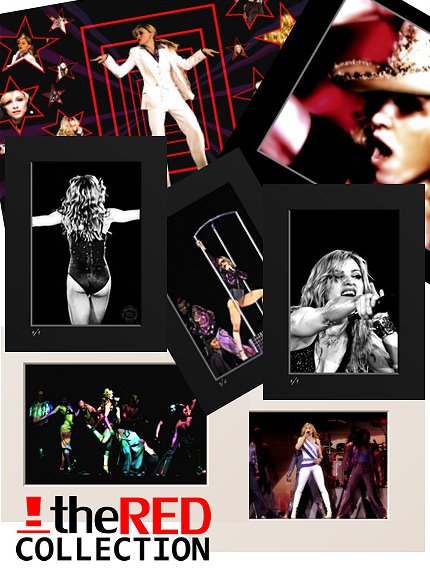 And for a limited time only: Anyone who uses the madonnalicious discount code will receive this free gift of a 10x8 unmounted photo (see picture below), embossed with a 3D seal of authenticity.