Radio DJ Sonia Kruger from Australian radio station MIX 106.5 had the chance to listen to the new Madonna Album Hard Candy in Los Angeles just before she interviewed Madonna. Sonia published the full tracklist on her blog here.
As I write I'm in between having just listened to Madonna's yet-to-be-released album and actually interviewing her. I quite enjoyed the new album - lots of songs that are relationship-based and there's this one particular track which is a classic dance track.
The first single '4 Minutes' has a great marching band feel to it – loved it! All the tracks have fantastic energy and there's not a single track on the album that's not a winner - brilliant stuff. The single will be released in late March and the album hits stores on the 29th of April.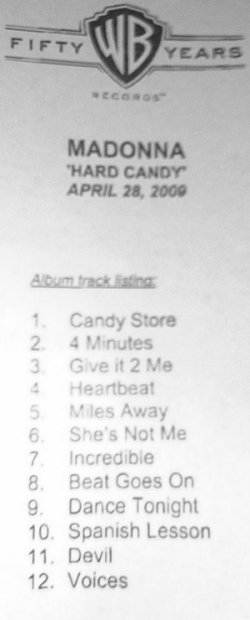 Fans shouldn't panic - the release date on the tracklisting sheet is an error (I hope) - we certainly don't want to have to wait until 2009 for the album!
Thanks to Micheal