madonnalicious reader Mary (and her friend also called Mary) have this great story to tell from the St Lousi MDNA show on Thursday 01 November:
The MDNA Tour in St. Louis was such a great show. The crowd was genuinely excited to see Madonna and they gave her a wonderful welcome that continued throughout the night. She seemed to be in great spirits - even through the sound problems on 'I'm a Sinner'...she was so sweet and funny when she said, 'Pretend like you don't see me.' As she said she'd start the song over. It was a cute moment.
I attended with my best friend from our elementary school days (we are now 39 years old.) We wanted to dress up, but were unsure of what to wear. We knew we could do the '80's' garb route or dress up like our favorite Madonna era. Instead, we opted to go as nuns. Since St. Louis is a large Catholic town - we were a little unsure of how people would react to us...so we wore 80's garb beneath our habits...just in case we needed to make a quick change.
Once we walked into the Scottrade Center we were swarmed with other happy Madonna fans, drag queens, people from all over the country and world! We were bombarded and posed with tons of fans. We thought it couldn't get any better. We went up to our seats in an upper section of the venue and decided to go back downstairs for a bottle of water. We were once again bombarded with people. (Many asking if we were REAL nuns.)
Then an event staff member came up and said, 'Where are you seated tonight, ladies?' We told him. He said, 'We want to get you a little closer to the stage. We want HER to see you.' Being as we have been Madonna fans from the beginning of her career - we jumped at the chance. We were moved to the side stage, row 5, seats 1, 2, 3 (my mom was in tow, of course!) and we knew she was going to see us.
In between what seemed to be song 3 and 4...it happened. Madonna came to the side of the stage to take a swig from a flask. She did a double take, looked me square in the eyes, pointed to me, gave me a thumbs up and a wink. I smiled and waved like a complete dork! She has such beautiful blue eyes that just shine on stage. FINALLY! I was close enough to see them! :)
I've seen Madonna in Las Vegas (Drowned World); Chicago (Confessions); Chicago (Sticky & Sweet) and MDNA (St. Louis). This was my friends first time and my mom's first. We had a complete blast. We danced, sang and laughed all night. We could have cared less that she started late. The stadium exploded during Like A Prayer...every single person was out of their seats, singing and clapping above their heads. It was a sight to behold!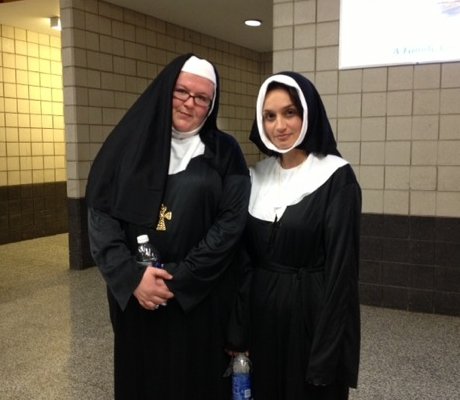 Picture by Jaime Lees / Riverfront Times